Printed embroidery chart "Fiery Horse"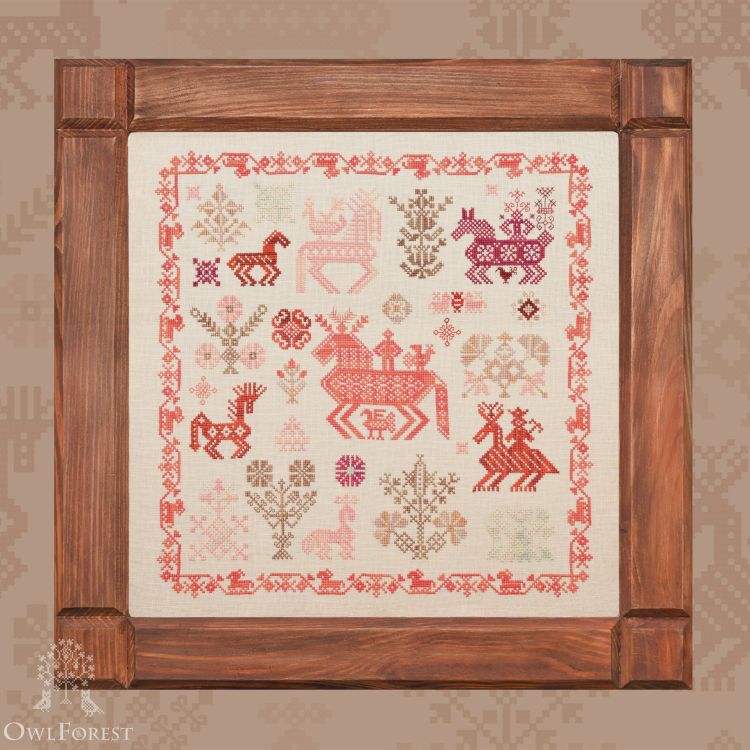 The "Fiery Horse" pattern is a pair to the "Peahen Bird" one — it also contains traditional Russian motifs, compiled of elements found on old towels and clothes. Each of the horses is unique, it has its own character. It is really a pleasure for us to provide a new spin for old motifs, to give them a new life, to rediscover the beauty of traditional embroidery.
This pattern can also be purchased as a kit or as a digital chart.
The printed chart contains a pasted QR code for downloading a SAGA format file for the Cross Stitch Saga Application.
Please note: The work on the photo was made with OwlForest hand-dyed threads based on DMC floss. If you use threads of a different palette/manufacture, the result will differ from the preview.
| | |
| --- | --- |
| Designer | Galina Egorenkova |
| Number of the floss colours | 7 |
| Number of cross-stitches | 9974 |
| Size (cross-stitches) | 189 × 189 |
| Size on the recommended fabric | 30 × 30 cm |
| Embroidery technique | Cross-stitch, Double Running Stitch |
| Recommended fabric | Zweigart Belfast, 32 ct, цвет античная слоновая кость / Antique Ivory (3609/233) |
| Key | Owlforest, DMC, Gamma, Trade n.a. Kirov |
| Size of the chart sheet | A3 |
| Type of the chart | Colored Chart |
| Number of the chart sheets | 2 |
| Instructions language | Russian, English |
Categories: Printed charts Charts